Yorkshire County Championships 2018
Our counties annual outdoor championships took place over the weekend of 2nd and 3rd June at Grange Park Sports Club in Wetherby. Some of our lovely members braved the wet weather of Saturday and enjoyed the warmer weather on Sunday to compete.
Darren Clarkson, our new club Chairman, shot fantastic new personal bests on both days as well as achieving his 1000 Fita Star award. He has decided to celebrate by investing in a new waterproof archery hat! Well done Darren, a great effort.
Two of our Junior members also took part on both days. Tom Oakley, shooting a Metric 1 round on the Saturday took 2nd place in the Under 18 Boy Recurve category. This is the first time Tom has competitively shot this round, having just moved up to the under 18 category this season. The longest distance Tom shot at the event was 80 yards so this was a fantastic effort.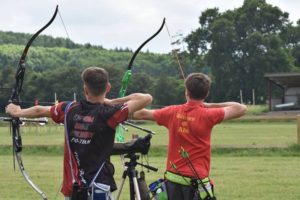 Also on the Saturday, our Max Oakley took 1st place in the Under 12 Boy Recurve category, shooting a Metric 4 round for the first time too. The score he achieved in this round was enough for his third and final entry to achieve his Junior Master Bowmen classification with a Recurve bow. On the Sunday Max shot a Bristol 4 round and again placed 1st in his age category with a personal best score an incredible 100 points above his previous best. Finally, the score Max achieved on Sunday also meant he was awarded the overall Yorkshire Boy Champion in the Recurve category, scoring the highest score of all the under 18 male archers. Super results Max, keep it up.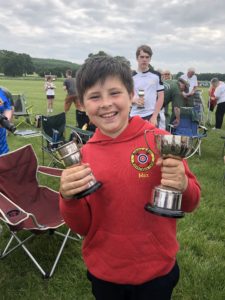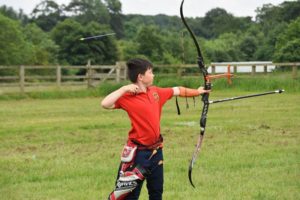 Competitions in our region are a great place to get to know fellow archers of all ages and abilities. They are very friendly and welcoming and give you the opportunity to shoot at different locations, enjoy our sport and have fun. If you think you would be interested in taking part in a competition, speak to our chairman Darren or Nicky Oakley who can give you some more information.